The construction of the sumptuous Palace in Dowspuda started Pac after his return, in 1820, from Italy. It was connected with his decision to transfer here his patrimonial residence. In 1814-1815, Pac stayed in Britain where the idea of building a Neo-Gothic palace patterned after the ancestral houses of English lords. Dowspuda was, thus, to be a country house and at the same time a kind of monument to the glory of Polish arms and the eminence and dedication to homeland of the Pac family. The building of the palace started under the direction of an Italian architect, Pietro Bossio, but soon, in 1822, it continued under Enrico Marconi, another Italian architect brought specially from Italy by Pac.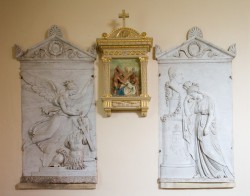 The palace in Dowspuda was built in brick covered with plaster, on a plan of a reverted letter T. The façade of the main body of the building was decorated with statues of four kings and eight hetmans. The representative rooms of the Dowspuda Palace were located in the ground floor of the main body of the building and its wings. The western part of the main body of the building housed an armoury and a military library, the eastern one was composed of an orangery and a room in the Corinthian style. The central part of the pavilion occupied a two-storied chapel; behind it was a painting gallery. The western wing housed a library, a representative bedroom and a bath; the eastern one housed a billiard-room and a dining room.
All interiors were richly decorated with frescos, paintings, sculptures, stuccos and militaria. Such sumptuous interiors had to be supplemented by a fireplace of Carrarian marble and a fancy fountain. The windows were decorated with stained glass. The upper floor of the palace was composed of the apartments of the owners and their guests. The upper story of the two-storied cellars had baths, called thaerme, richly decorated with arabesques and paintings of nature. The surviving portico was originally a protruding part of the main body of the building that served as the palace forecourt.
The visualization of the Palace of L.M. Pac in Dowspuda was created under the Cross Border Cooperation Programme Lithuania-Poland 2007-2013, Small Projects Fund, co-financed by the European Regional Development Fund and the budget of the Republic of Poland.
Well-preserved until today is the building of the guard house, situated at the Palace entrance gate. The building was once used, according to its design, as the premises of the Palace guards.