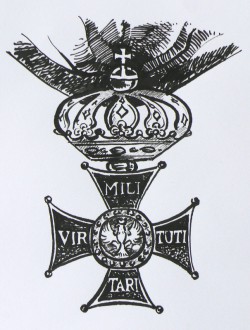 Ludwik Michał Pac started his military career in 1807, as a Napoleonic officer in the staff of Marshal Bessières. He took part in the Spanish campaign and fought at Medina del Rio Seco (14.07.1808) during which was wounded. On 28 August, he was appointed the chief of the 1st Squadron of Light Cavalry and fought at Burgos (10.10). During the war with Austria, he took part in the battles of Essling (21-22.05.1809) and Wagram (5-6.07). He also took part in the military operation on the island of Walcheren, the Netherlands. On December 1809, he handed in his resignation and returned to Poland, and in 1811 took the command of the National Guard of Łomża Department.
In 1812, he commanded the 15th Regiment and then the 2nd Regiment of the Uhlans of the Duchy of Warsaw that joined the Russian campaign. On 18 July 1812 he was promoted to Brigadier General and joined the staff of Napoleon. During the Russian campaign he took part in the battles of Smolensk (16-18.10) and Małojarosławiec (24-25.10). He showed courage in the battles of Lützen (2.05.1813) and the Battle of the Nations, at Leipzig (16-19.10). On 12 January 1814, he was promoted to Division General, and earlier on 4 January took the command of the whole Polish cavalry that remained with Napoleon. He fought at Berry-au-Bac (5.03), Craonne (6.03) and defended the Parisian suburb of La Villette (30-31.03). On 26 May 1814, he handed in his resignation. In 1813, he was made the Commander of the Legion of Honour, and granted the Order of Saint Stanislaus with Grand Sash and the Bavarian Military Cross and earlier also the Cross of Malta.
In 1825, Gen. Ludwik Michał Pac became a Senator – Castellan of the Polish Kingdom although the Tsar had rejected his nomination three times. On the outbreak of the November Uprising he joined the Administrative Council and during the absence of General J. Chłopicki he became the Chief Commander, and since 12 December a member of the council advising the dictator. On 25 January 1831, he signed the act of dethronement of the Tsar. Since 15 March he commanded the reserves of infantry and since 29 April all reserve forces on the left bank of the Vistula. In May, he commanded the Reserve Corps and on 26 May he took part in the battle of Ostrołęka during which he was heavily wounded. On 28 May he was granted the title of Senator-Voivode. He remained in the army until the end.
As an émigré he initially joined the Polish National Committee, but quickly withdrew from its activities. He took part in diplomatic missions (England, Italy) and cooperated with Prince Adam Jerzy Czartoryski.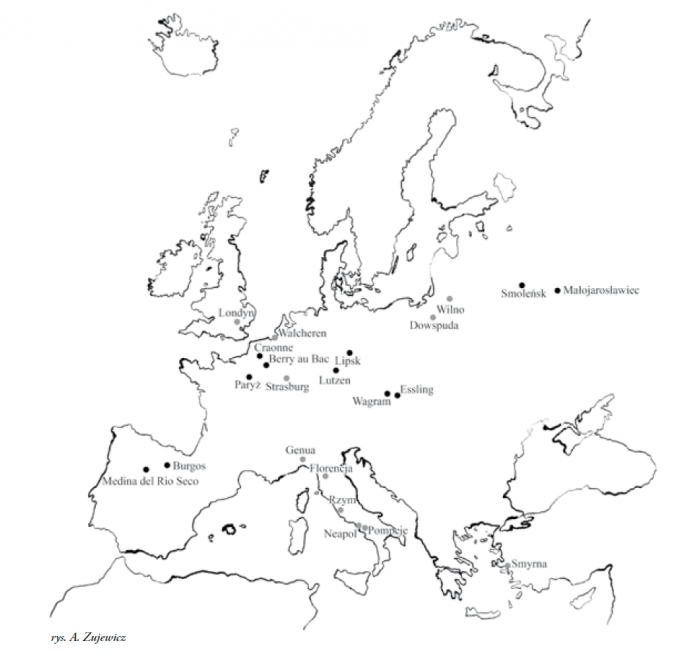 Military career
14.07.1808 – Battle of Median del Rio Seco (Spain)
10.10.1808 – Battle of Burgos (Spain)
21-22.05.1809 – Battle of Esslingen (Austria)
5-6.07.1809 – Battle of Wagram (Austria)
29.07. – 30.09.1809 – a military operation on the island of Walchern (the Netherlands).
16-18.10.1812 – Battle of Smolensk (Russia)
24-25.10.1812 – Battle of Małojarosławiec (Russia)
2.05.1813 – Battle of Lützen (Germany)
16-19.10.1813 – Battle of Leipzig, the so called Battle of the Nations (Germany)
5.03.1814 – Battle of Berry-au-Bac (France)
6.03.1814 – Battle of Craonne (France)
30-31.03.1814 – Defence of the Parisian suburb of La Villette (Francja)
Political and private career
19.05.1780 – L. M. Pac born in Strasbourg (France)
1796 – studies in Wilno
1802 – stays in Paris
1803-1804/1806? – travels in Great Britain
1814-1815 – travels in Great Britain
1819 – honeymoon trip to Italy (Rome, Florence, and Pompeii)
November/December 1831 – begins emigration in Paris
1832 – London – seeks the support of the Polish cause in the British Parliament
Since August 1834 – diplomatic mission in Italy (Genoa, Rome, Naples)
March -August 1835 – travels to Greece and Turkey (on 31 August, L. M. Pac dies in Smyrna)
by Marek Sidor