The hub of the tourist traffic in the Suwalszczyzna is the Wigry National Park. It has the best developed accommodation and other tourist services. Ironically, the area of the strictest nature reservation concentrates densest tourist traffic. The situation brings many benefits but also problems. One advantage is the very existence of the National Park. That in itself is a good advertisement and a guarantee that tourist will see really wild and beautiful sights.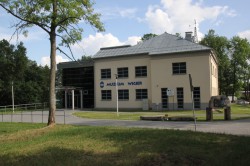 The disadvantage lies in the fact that not all forms of tourism can be developed, except those that do not harm our greatest wealth – unspoilt nature and magnificent landscapes. Preferred is activity-based tourism. A dense network of hiking trails allows reaching the most interesting parts of the park. The most famous and most visited is the nearly 30-mile long trail around Lake Wigry. The largest tourist centres on Lake Wigry are two localities – Stary Folwark and Gawrych Ruda. They also offer most beds – mainly in private homes and guest houses, and have best developed tourist-oriented services: catering, accommodation, rentals etc. The Wigry Museum, situated in Stary Folwark, is one of the biggest attractions of the Suwalszczyzna. Its modern permanent exhibition presents the history of the lacustrine landscape, life in deep lakes, rivers, bogs and forests, and man's activity in the area including the history and achievements of the former Hydrobiological Research Station whose building houses now the museum. An additional attraction is a cruise on Leptodora, a motor boat with a glass bottom allowing observation of the lake's underwater world.
A must for Park visitors is a trip to the former Camaldolese Monastery; a small tourist ship offers cruises on Lake Wigry from a nearby marina. Among the most frequently visited places is also the Park's head office in Krzywe with its exhibition of the local nature and the trails located in the neighbourhood, including educational nature paths: "Forest" and "Suchary" . Very popular among visitors are also trips on the Wigry narrow-gauge railway from Płociczno to Kruszniki.